Lucie Loves... Food // Pies, Beers & Tunes: A Northerner's perfect date night at Piebury Corner, King's Cross and the BEST get well soon present ever!
The first time I wandered in off the street and through the doors of this independently owned restaurant, Piebury Corner, was late 2017. I was off to a friend's wedding in Kent and realised that – learning from mistakes made at another friend's wedding – I needed to line my stomach well, before partaking in the evening's drinking shenanigans.
And so, it was alone, as a solo diner, that I enjoyed my first pie and mash with lashings of red wine gravy, washed down with a refreshing bottle of cider. I mean, I don't know about you, but this combo definitely beats a tuna mayo sandwich from Boots...
A few weeks later, my Mum and Nan were down to in London, as my Mum had her first pre-opp appointment at UCLH (read about her Mesh journey here) and I immediately knew of the perfect place to take them for lunch.
Saturdays in Warrington, growing up, were usually marked by a trip to the local pie shop. We'd grab a few freshly baked hot pies and then take them to my Nan and Grandad's. My parents, cousins, aunties, uncles and siblings would all sit around the table as a family, cups of tea in hand, gossiping about that week's happenings and upcoming holidays.
You can see now why pies are my ultimate comfort food. I love pies! One of my life-long ambitions (seriously!) is to be one of the judges at a national pie competition... so if you know of anyone who's looking... drop me a line!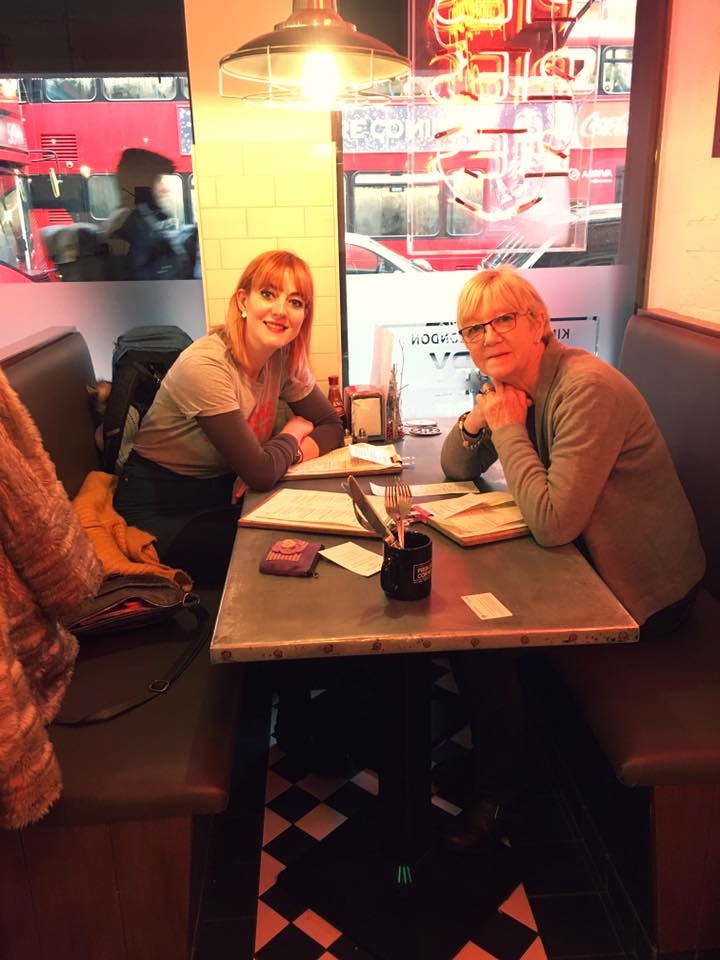 A photo of my Nan and me, taken by my Mum – just before we demolished our pies!
Whilst at Piebury Corner with my Nan & Mum, we were introduced to the owner, Paul Campbell, who told us the story of how Piebury Corner first came about. If you haven't already guessed, the name is a play on Highbury Corner, and a nod to the hundreds (if not thousands) of pies that were sold each month, on match days to both home and away fans, visiting the Arsenal stadium.
My third visit to Piebury Corner came recently, when I was invited to do a review for the blog. I decided to turn the occasion into a date night and take my man with me, certain that he'd love the place as much as I did – if purely for the music and atmosphere alone! Lucky for us, Paul was there to greet us and tell us more about the history of the place, his love of music and the story behind the pies. We arrived as punters and left as mates!
It's not a huge restaurant, but it does have a huge personality and a heart of solid gold (read on to find out about their zero wastage policy and the charities that they support) – and how could it not with owners like Paul and Nicky.
It's a saucy little place – probably not one to take if you've got inquisitive children who need every new word explaining to them... But definitely the place to go with fun-seeking friends and colleagues. There's red neon signs and naughty nude artwork – a very fitting nod to London's Soho and the building's sordid past as a knocking shop, when King's Cross was still very much the red light district of London. The whole of the interior has been very carefully thought out and lovingly crafted, even down to the little coal chute castings on the floor.
The atmosphere is chilled and unfussy. You could almost be walking into a friend's kitchen. The staff are lovely and – thankfully – lack any of the hipster IDGAF snootiness that you often find in east London restaurants. Soothing sounds of Motown and Northern Soul music drift down from the speakers, as diners casually tuck into plates of very unpretentious food. You can choose to sit in one of the window booths (my fave) or at one of the tables dotted in the centre. There's a couple of bar stools too, if you just fancied one of Piebury's deliciously pun-filled cocktails.
This place gets top marks from me, when it comes to restaurant interiors. Even the naughty posters lining the toilet wall had me chuckling as I washed my hands.
At the weekend, Piebury comes into its own, as Paul aka DJ Ironingboard takes to the decks. I can definitely say I need to head down on a Friday or Saturday night and party it up with some of the music legends that Paul and Nicky play host to.
FYI - If you're working in the King's Cross area, it's worth noting that you can also buy pies, beers or Scotch eggs to takeaway and enjoy in the office or at home.
Heart of an angel!
The lovely Paul took my parents some pies to UCLH, after finding out that my mum was recovering from her second mesh removal operation at the hospital down the road. Not wanting either of them to go hungry or miss out on a good pie, he found out what ward she was staying on, and surprised them both with a takeaway pie, mash & gravy! My parents were overjoyed at such a kind gesture.
If you're heading to UCLH hospital, in need of comfort food and great company, please do pop on down to Piebury Corner (a 15 min walk from UCLH) and try the pies. Oh! And don't forget to say hi to Paul for me.
A BIT MORE ABOUT NICKY & PAUL AND HOW PIEBURY CORNER CAME ABOUT...
PAUL: I've had a shopfitting business in London for 30 years and Nicky worked in pensions. We've got two kids Spencer, 16 and Larianna, 10. We still live in the house in Highbury where the pie stall was created. Nicky runs most of the business, having self-taught herself along the way while I cover social media, logistics etc. But it's girl power all the way! Nicky's the brains.
So the pie idea came about from me and Nicky, being avid festival goer's, (we even had our honeymoon at Glastonbury) and seeing the quality of street food on offer at festivals like Camp Bestival – compared to inside and outside football stadiums across the UK. We thought footy fans were getting a raw deal. Our house, a stones throw away from the old Highbury stadium has 12,000 fans go past every match day so – pies being synonymous with football and being on the corner of the old Highbury stadium – Piebury Corner was born in 2011. One week we were left with hundreds of cooked pies and Nicky found The Pilion Trust homeless charity, so the pies didn't get wasted. We've now being supporting them for the last 7 years. Now any left over cooked pies and the end of the day from both sites go direct to local homeless people. There is zero waste. Proceeds from our scotch pie go to Bob Wilsons 'Willow' foundation charity for young people across the uk.
The charity put us onto the site on Holloway Rd, which after we'd signed the lease, we found out it had originally been a traditional pie and mash shop since at least the 1st world war. The shop went from strength to strength even getting featured in Vogue magazine and many other national titles. All of this can be found on the press and media section on the website. Here's a good article documenting this part of our story.
We soon became known as The Arsenal's cult pie shop as the shops menu and theme celebrated the old historical Arsenal and not the club as you see it today. We soon won the hearts of even the ardent football supporter due to paying homage to the players and staff who worked there by naming them after the pies.
The artwork and memorabilia on display at Holloway celebrates Old Highbury and the players who played there, where the Kings Cross restaurant celebrates the history of local landmarks like The Scala Cinema and the sex workers who dominated the area up until the late nineties.
The interiors at both restaurants are a modern take on the traditional pie and mash tiled restaurants in London with black and white Victorian floor tiles and crackleglaze cream and duck egg blue brick tiles giving a classic feel within a modern day concept. The furniture and lighting also gives a rustic industrial worn and torn feel with the tables hand made by Paul and weathered to look older. Many people are mistaken in thinking the KX space resembles an American diner, but on closer inspection of details like in the neons for instance, there's a definite link to the sex shops of Soho and Kings Cross back in the day. The wallpaper in the toilet also confirms homage paid to the local sex workers with the shops phone number on sex advertising cards that used to be placed in public telephone boxes.
My daughter and I took the mouldings for the coal-chute covers from the pavements surrounding the restaurant. It all began, when we started off saving the cover of our front garden path where the match day stall started. We've since collected 16 different London patterns from the salvage yards at a cost of £15 each. When it came to the floor at KX they'd risen in price to £250 each so I went onto the streets with our daughter, took four local patterns from Caledonian Rd, Euston Rd, Pentonville Rd and KX junction itself where the three roads meet.
DJ IroningBoard was founded on match days with me and Piebury resident DJ Uncle Al setting up decks and sound system in our next door neighbour's garden.
in Highbury then creating my portable, wireless sound system that fits perfectly on an ironing board, hence the name. Many famous rock stars, musicians and DJ's have played on the ironing board, all friends of mine from London clubbing days of the early 90's. Spandau Ballet drummer John Keeble, Primal Scream's Andrew Innes and Andy Bell from Ride are regular DJ's. London movers and shakers like Lord Barnsley, Clash Rude Boy actor Ray Gange and Spizz Energy are also regulars at Holloway. Douglas Hart founder of The Jesus and Mary Chain and Primal Scream guitarist DJ'd recently at KX. DJ IroningBoard can be found popping up at random at various festivals this summer. I Dj'd at Alfresco Festival in Kent just gone. The music on the ironing board is there is no music policy.
Get social...
Over to you...
Pssst!
If you're a Food journo or a FOOD blogger looking to review new restaurants, get in touch with Paul at Piebury Corner to arrange a visit! It's also a great shoot location, if you're looking for an interior with a diner vibe.
Photography © LucieKerley