Lucie Loves... Travel // Our 17 night U.S. Road Trip Itinerary: Where to Eat, Drink, Sleep, and See in America's Deep South.
"Who fancies coming on a U.S. road trip around the Deep South?" asks one of best mates – buoyed by her newly single status.
"Ah! Go on then!" I reply, not really needing much persuasion to undertake another American road trip, since california was just sooo good. "I'll come too!" Pipes up, my mate Sarah – another freelancer.
"Where do we start…? Atlanta? Nashville? New York? New Orleans? Miami?"
"Miami! Yes!" *dreams of cocktails on south beach*
Ok guys, I'll warn you now, this is a long read and probably best viewed on desktop! But I promise, if you're looking to head over to The States and visit the Deep South, you'll thank me for the tips and recommendations detailed below. Still reading? Grab a cuppa – or maybe even a Bourbon – a pen and paper, and then get yourselves comfy, as you escape with my friends and I to America's Deep South.
In this blog post I'll try and answer the following questions:
Q.How much to budget for a 17 night U.S. road trip? Q. How many U.S. States can you visit in 2 and a half weeks? Q. Which States should you visit? Q. Where to stay in the Deep South and not bust your budget? Q. Where to find the best traditional Deep South American cuisine? Q. Where's good for a night out in Miami, Nashville, Memphis, Clarksdale, New Orleans and Atlanta? Q. What are the must-see tourist attractions in the Deep South? Q. How far will we need to drive each day to get from place to place? Q. Where should I avoid in the Deep South? Q. What is the weather like in the Deep South?
If there's anything I've missed, drop me a message in the comments below and I'll try and help answer you separately.
Our 17-night u.s. deep south road trip Itinerary
Day 1 - Monday - London to miami

Day 2 - Tuesday - miami, FL

Day 3 - Wednesday - miami

Day 4 - Thursday - miami to bryson city (via atlanta)

Day 5 - friday - smoky mountains

Day 6 - saturday - smoky mountains to nashville

Day 7 - sunday - nashville

Day 8 - monday - nashville to memphis (via lynchburg)

Day 9 - tuesday - Memphis

Day 10 - wednesday - Memphis to greenville (via clarksdale)

Day 11 - thursday - greenville to new orleans

Day 12 - friday - new orleans

Day 13 - saturday - new orleans

Day 14 - monday - new orleans to montgomery

Day 15 - tuesday - montgomery to atlanta

Day 16 - wednesday - atlanta to miami

Day 17 - Thursday - Miami to London
7 states visited
in 17-days
(24 Apr to 10 May)
Florida > Georgia > North Carolina > Tennessee > Mississippi > Louisiana > Alabama > Georgia > Florida
How long we spent
in each location
2-nights Miami, 2-nights Smoky Mountains, 3-nights Nashville, 2-nights Memphis, 1-night Greenville (stopover), 3-nights New Orleans, 1-night Montgomery, 1-night Atlanta, 1-night Miami
Day-by-day deep south road trip itinerary
Below I've outlined our Deep South road trip with associated costs and bar recommendations. It's worth noting that we did this trip on a mid-high range budget, and I'm sure it could be done cheaper if you found less expensive accommodation (stayed in more hostels) or ate less expensive food. But, this being the trip of a lifetime, we didn't want to limit our options and so varied our stays between airbnbs, budget hotels, motels and some fancier hotels to book end the trip and guarantee a good night's rest.
See the bottom of this post for a breakdown of costs.
As my friend, Laura, is a logistical genius, she had created a spreadsheet for us to capture all of the details of our trip. This proved massively helpful for keeping track of booking details, hotel costs – who owed what – and gave us an idea of where we hadn't yet booked any accommodation (for the stop offs on long drives between some of the further apart destinations).
Day 1 – Monday // London to Miami
Accommodation: The Hall South Beach - 3-nights – Total £361.93 / £120pp
Flights: London Heathrow to Miami Airport - £463pp for a return flight
Dinner: Yard Bird (Swine Burger + Salad, with a bottle of prosecco* to share!) - Total $142 for 3 people. Approx $32pp minus tip & Prosecco – a gift from Jan Rayner :-)
Drinks: The Lost Weekend Bar – great for games of pool & cheap-ish Jack Daniel's & Cokes
Sights: Kill Your Idol Drag Show
Day 3 - wednesday // Miami to bryson city (via atlanta)
Accommodation: Lloyd's on the River, Bryson City – Total $72 for 1 room for 3-people for 1-night / $24pp (note: lots of mosquitoes in this area and wet weather — take bug spray, waterproofs and decent walking shoes!)
Breakfast: The Raleigh Hotel (French Toast brioche + 2 x double shot latte double shot) - Total $98. Approx. $37pp (inc service + tax) - This place was recommended by a friend and is well worth a visit for a fancy breakfast!
Travel: Internal flight from Miami International to Atlanta
Car hire: Picked up Kia Sorento from Park & Fly
Lunch: Taco Bell "OMG! I love your accents" (Protein burrito + Ice tea) - Total Approx. $8pp
Day 4 - thursday // bryson city to GREAT smoky mountains
Accommodation: Sleep in the Clouds Airbnb, Sevierville (Beautiful log cabin with hot tub. What a view!) - Total £96 for 1-night for 3-people / £32pp.
Breakfast: Everett Street Diner (Pancake combo + two poached eggs + bacon) - Total $12pp inc. tip
Sights: The Great Smokies – Road to Nowhere (in the pouring rain), Clingman's Dome (in the fog – we couldn't see a thing! Check the weather forecast before we decide to visit – it's a long drive up these mountains!)
Dinner: Walmart shop (BBQ food & prosecco to cook at our Airbnb, plus breakfast for the next morning of smoked salmon and cream cheese bagels) - Total $26pp
Petrol: Topped up fuel at Cherokee, NC: 10.935 gallons (1/2 tank) - Total $25.28
Day 5 - friday // smoky mountains to nashville
There is no beer on the planet that is not brewed by a monk in a monastery that is better than that!" ~ Leon "And that's the truth! Samuel Smith's Oatmeal Stout is the perfect beer."
Day 6 - sATURDAY // nashville
Breakfast: What breakfast? A bourbon-laced hangover from hell had hit us hard.
Lunch: Burgers at The Pharmacy (Mission City Burger + Chic milkshake) - Total approx. $20pp
Sights: Johnny Cash Museum - Ticket $18.95pp (Tip: We managed to get free parking at Nissan Stadium, but do check incase you get clamped!) Another trip to Third Man Records, followed by a taxi back to our car – the hangover had worsened... and we were due a restorative nap!
Dinner, Music & Drinks: Robert's Western World (Veggie burger + Two Angry Orchard ciders) - Total approx. $20pp. Next stop: more music, drinks and dancing with Texans at Layla's bar. You may think that Broadway isn't for you... but I swear no trip to Nashville is complete without it!
"I love you hair colour. What is that? Blorange?!"
Day 7 - SUNDAY // nashville
Day 8 - MONDAY // nashville to memphis (via jack daniel's distillery, lynchburg)
Accommodation: Magnuson Memphis Hotel (pool was closed due to low season, but went to the small indoor hotel gym instead) - Total £89.49 for 1 room for 3 people for 2-nights inc. continental breakfast / £29.83pp.
'Sights: The flight of Jack Daniel's Distillery Tour, Lynchburg, TN - $17pp - length: 1hr 30m minutes
Lunch: Noon-time southern-style meal at Mary Bobo's house (Included in Taste of Lynchburg Tour - $75p/ length: 3hrs)
Travel: Drove to Memphis • 200 miles of straight road - A long and tiring drive!
Petrol: Topped up fuel $33.54
Dinner: The Beauty Shop restaurant, Memphis (Shrimps + grilled avo, Beet + satsuma salad + glass of Malbec) - Total approx. $35pp. Thoughts: Cool restaurant – very photogenic, shit service, good food, but pricey bill.
Day 9 - TUESDAY // memphis
Breakfast: Continental breakfast "bagels + cereal + coffee" (note: everything contained sugar... but it was free)
Sights: Elvis Presley Graceland Tour – Elvis Experience + Planes ticket $65.50pp (note: parking at Graceland is $10), STAX Records
Lunch: Gladys' Diner @ Graceland (Hotdog, banana and peanut butter milkshake + cookie) - Total approx. $15ppprite vending machine
Dinner: Rendezvous BBQ (World-famous charbroiled pork ribs – 1 x large (9 ribs) + 1 x small (6 ribs), plus sides: beans & slaw + cider) - Total $70 for three - approx. $25pp inc tip
Drinks: Rum Boogie Cafe (Maker's Mark & coke + rum cocktail) - Total $22.77 inc tip, B.B Kings (First cover of Purple Rain of the trip! Plus an incredible live medley of Beyonce mixed with Fresh Prince of Bel Air), more drinks at Rum Boogie, followed by dancing at Tap Room (another great live band!) and ended the night at Purple Haze Club.
Day 10 - WEDNESDAY // memphis to Greenville (Via Clarksdale)
Hungover (again!)
Accommodation: Day's Inn, Greenville - approx $ 20 per person
Breakfast: Another Broken egg cafe (Hey Lucy! Omelette + side of bananas foster pancake, side of fruit, coffee, orange juice) – Total approx $26pp. Thoughts: lovely customer service, funny questions "How long do you think it'll be before marijuana is legalised in the U.K.?"
Sights: Sun Records Studio Tour ticket $14pp, street art, MLK National Civil Rights Museum
Travel: Drove to Clarksdale in the torrential rain
Dinner: Morgan Freeman's Ground ZeroBlues Club - Heavy Sugar Band (Chilli cheese burger, green tomatoes, fries + cider + Sprite) - Total $67 for three people. Approx. $26pp. Thoughts: A real treat and well worth the drive! Don't forget to find a table with a good view of the stage, and to sign your names somewhere in/on/under the bar – if you can find a space! Note: Be careful at the petrol stations late at night, we were approached by a young guy asking us for some money, and felt a bit on edge, as three girls travelling alone at night.
Day 11 - THURSDAY // Greenville to new orleans
Accommodation: The Quisby Hostel - Total £556.20 for a private room for 3-people for 3-nights / £185.40pp.
Brunch: Shoney's, Greenville (All-You-Can-Eat pancakes + bacon + coffee) - Total approx. $12pp Thoughts: It's slim pickings around that area... fast food central! If you find somewhere that does a healthy option, please let me know!
"You be careful now in New Orleans. It's Sin City!"
Dinner: Mother's Restaurant (Jambalaya + mimosa cocktail) - Total approx. $16pp
Drinks: Started off in LaFitte's Blacksmith Shop Bar, then wandered down to Bourbon Street and into Funky 544 and then went from bar to bar, wherever the music took us – you can't go wrong really, just be sure to check what size drink you're ordering at the bar, as I went for large and it cost $40 for three bourbon and cokes! Suffice to say, they were strong... so much so that I ended up losing my driving licence and room keys somewhere between Bourbon Street, the cab and our hostel lobby on the way home. Oops! Wild night.
"Y'all be careful now in New Orleans... It's Sin City!"
Day 12 - FRIDAY // new orleans
Brunch: Two Chicks (Grown up grilled cheese sandwich + coffee + green juice) - Total: $50 for three. Approx $16-26pp, depending on how much food your Bourbon Street hangover requires...

Lunch: Ace Hotel (white fish tacos + summer punch cocktail) - Total approx. $30pp (Note: There's a minimum spend required to use the rooftop pool bar at the Ace Hotel New Orleans, if you're not a resident. Thoughts: Great spot, pricey food and drinks, and very aloof-hipster staff.
Snacks: DROP Coffee (strawberry shortcake affogato) - Total $12
Sights: The beautiful streets of New Orleans
Drinks: Frenchmen Street and French Quarter - The Spotted Cat Music Club, Blue Nile, Cafe Negril, ended the night in B.B. Kings (listening to another superb cover of Prince's Purple Rain, whilst being cringingly whirled around the dance floor by a strapping American man. Oh my!
Dinner: FLAMBO (Loaded fries) - Total approx $5-$11pp
Other places we were recommended to see in New Orleans: NOMA, Ursuline Convent, Sculpture Garden, Japanese Artefacts, Lola's Spanish Restaurant pn Esplanade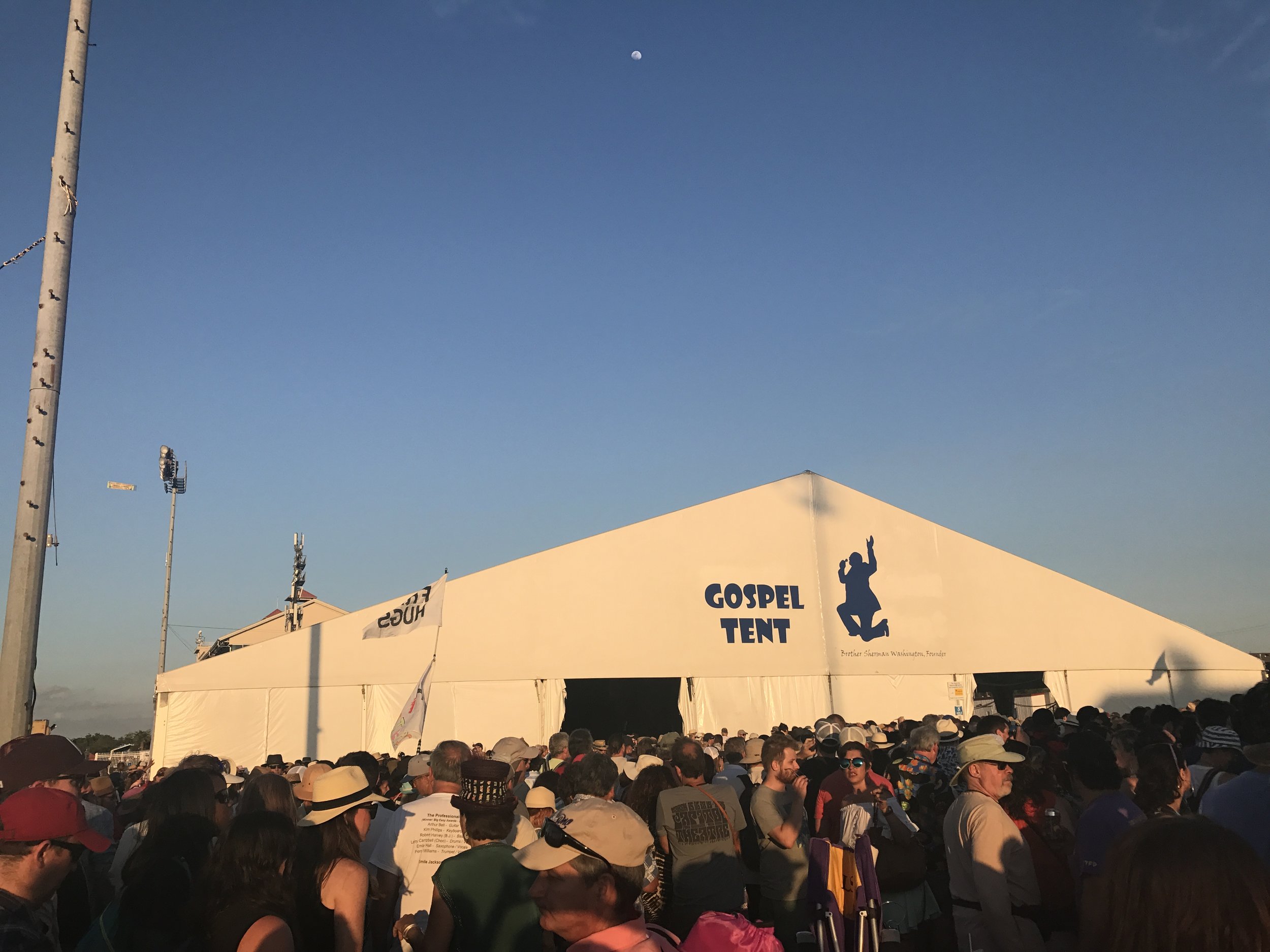 Day 13 - sATURDAY // new orleans (New orleans jazz festival 2017)
Breakfast: Continental breakfast at The Quisby
Lunch & drinks: New Orleans Jazz Fest street food (Crawfish enchilada, $7 + wine $9 +strawberry lemonade $5, wine $9, Margarita cocktail $8)
Sights: New Orleans Jazz Festival (Snoop Dogg, Stevie Wonder headliners)
Dinner: Lola's (strawberry, almond, spinach salad with goats cheese, calamari, white fish & shrimp ceviche) - Total approx. $26pp
Day 14 - SUNDAY // new orleans to montgomery
Accommodation: Motel 6, Montgomery - Total $56.97 (Note: Do not stay here! Our non-smoking room smelt strongly of cigarette smoke, the room was dirty and the beds were uncomfortable. Probably the worst night's sleep of the entire trip. Tip: pay an extra $10 and go to a Day's Inn instead if you need budget accommodation.Breakfast: Continental breakfast at The Quisby
Lunch: Mandina's (chicken salad + pecan pie cheesecake) - Total approx $27pp
Petrol: Topped up with $25 fuel
Dinner: Dreamland Bar-B-Que (BBQ chopped pork sandwich with the works + slaw and a side of beans + Angry Orchard Cider) - Total approx. $17pp
Day 15 - MONDAY // montgomery to atlanta
Accommodation: Day's Inn, Atlanta Airport - Total £64.96 for 3-people for 1-night / £21.65 pp.
Breakfast: First Watch - Total approx. $15.03
Shopping: The Merchant, Krog St, and Ponce City Market (an old Sears dept store in Atlanta), SEPHORA, ANTHROPOLOGIE
Snacks: Jeni's splendid ice creams (ice cream cone) - Total approx. $8pp
Dinner: Edgewood Ave Pizza (2 x medium pizzas and 2 x bourbon and cokes) Total approx. $28pp
Drinks: Sister Louisa's Church of the Living Room and Ping Pong Emporium and JOYSTICK Bar
Day 16 - TUESDAY // atlanta to miami
Accommodation: Hilton Airport Hotel Miami - Total £104 for 1 room for 3 people for 1-night / £35pp.

Breakfast: McDonald's

Lunch: Pizza Hut at Atlanta Airport - $25
Dinner: SuViche
Drinks: Wynwood Kitchen, Wood Tavern, The Corner
Sights: Wynwood Walls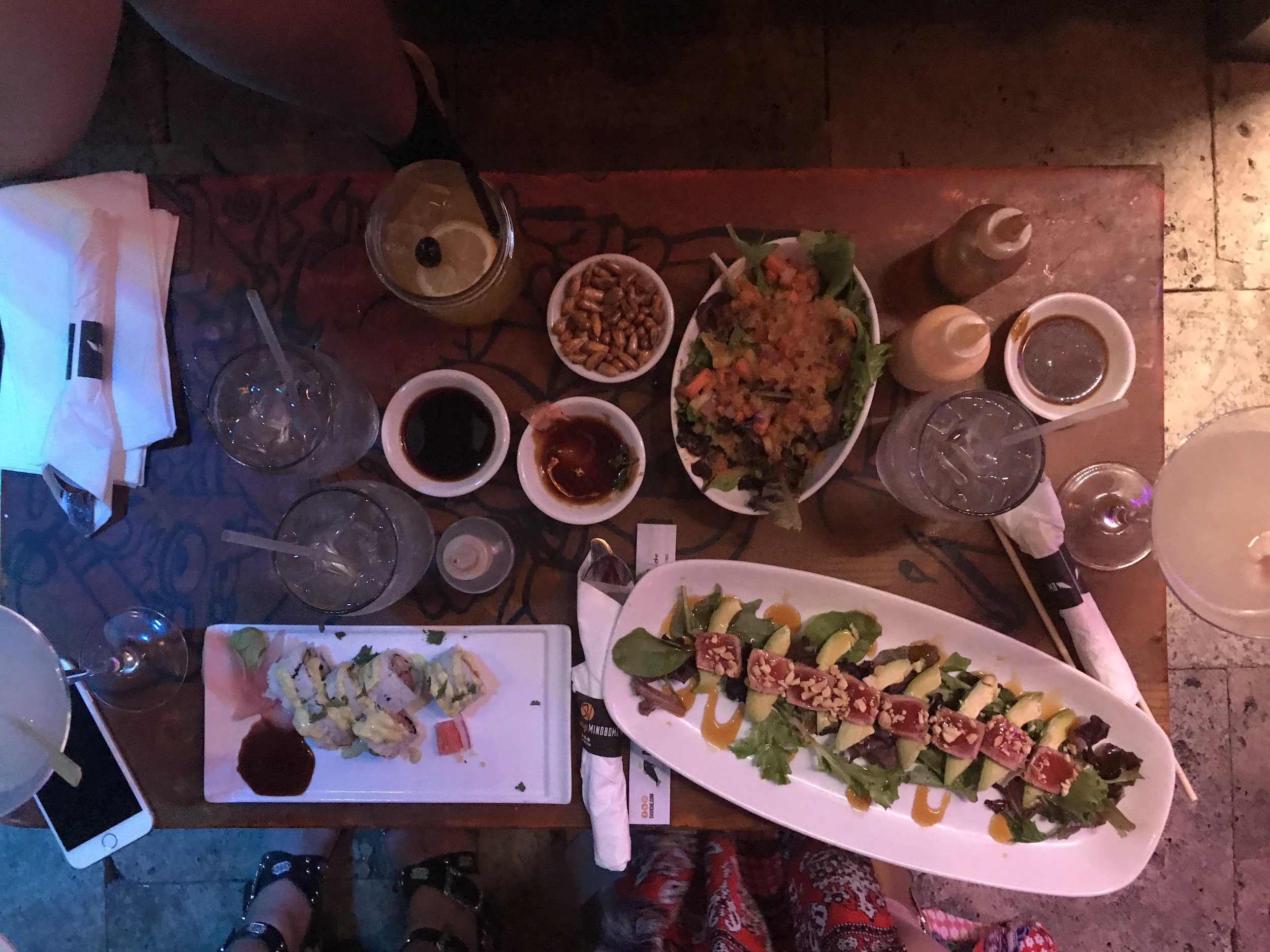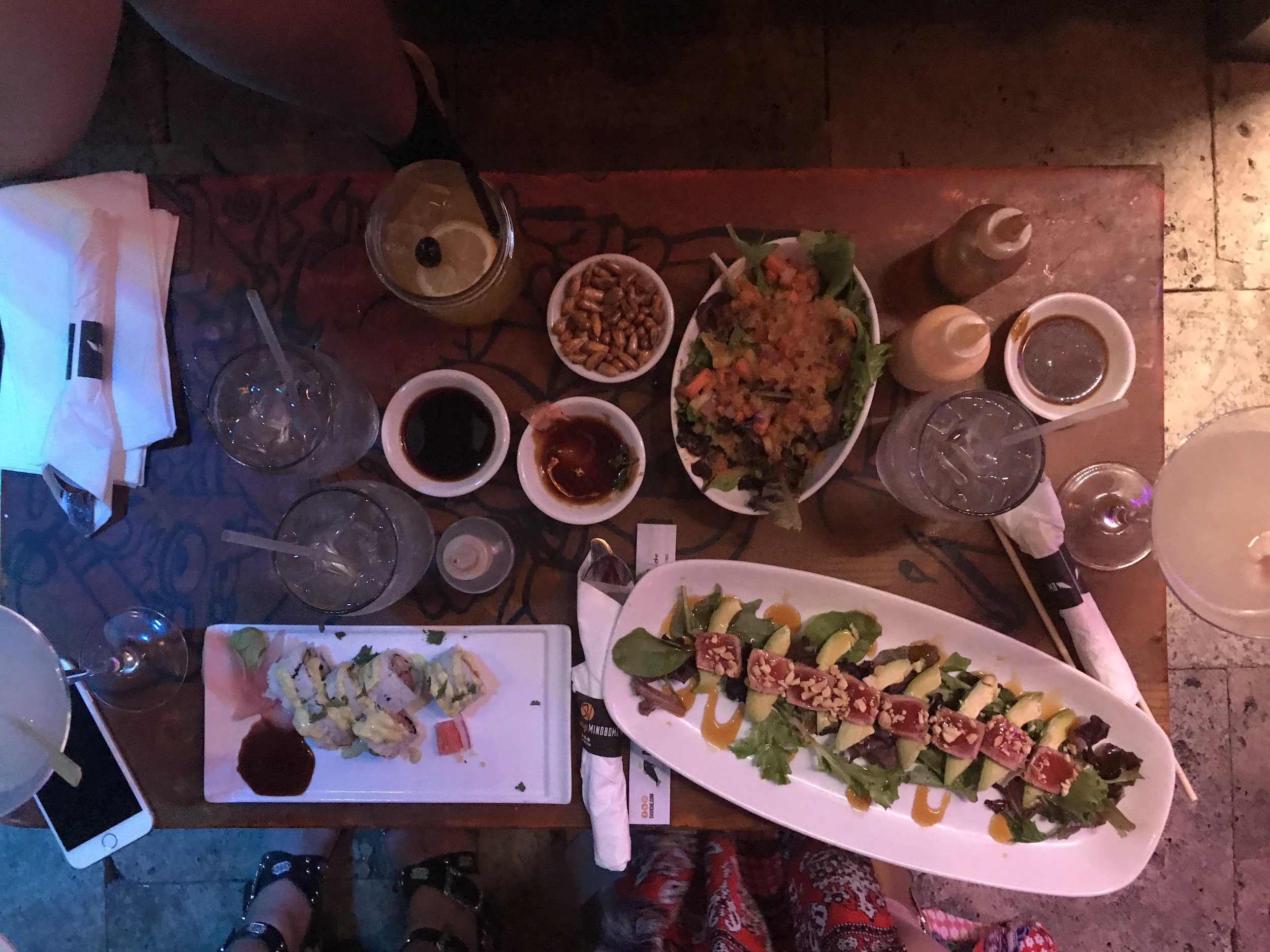 Day 17 - WEDNESDAY // Miami to London
Sights: The poolside @ Hilton Miami Airport - wearing Hunkemöller black bikini
Travel: Flight home from Miami International Airport to London Heathrow
cost breakdown for two week (17-night) US road trip
Flights – £463pp for a direct return flight with Virgin Atlantic from London Heathrow to Miami

Internal flights – approx. £100

Accommodation – approx. £600 - £1,200

Food & Drink – £800 (approx £45 per day)

Sightseeing - approx. £200

Car hire* – from £150 for a small vehicle or £450 for an SUV

Petrol - £100
Total – approx. £3,000pp
* Our car was a Kia Sorento SUV, which was a press loan from Kia Motors, therefore, car hire costs stated above are an estimate only. The Sorento was a beautiful drive. Despite being slightly nervous at first at it's large size, we quickly got used to the automatic transmission and felt incredibly safe (particular with the lane drifting sensors!) and comfortable, driving the long distances between each of the stopping points on our road trip. The Kia Sorento is also really economical on fuel - and alerts you on the dash as to when you are running low. It also has multiple USB charging ports, so that us three girls could top up the batteries on our iPhone between destinations.
On average the distance between each of the places we visited was approximately 3-5 hours. It helped that there were three of us and so we could split the driving between us all. It's advisable to ensure you top up with petrol whenever possible, on a road trip like this – and ensure that you always have bottled water in the car. Stop offs in places like Montgomery (you can do Birmingham, Al as an alternative) or Greenville, MS were only so that we could break up the driving.
My favourite place on the whole trip has to be New Orleans. I just has everything! Followed closely by Memphis and Nashville – both places that are steeped in music history and guaranteed great night out!
OVER TO YOU
If there's anything I've missed from our travel plans that you have questions about, please get in touch.
USING BOOKING.COM? USE THIS TO GET A DISCOUNT!
Don't forGet to claim £15 off your next hotel stay* by using my Booking.com referral link: https://www.booking.com/s/34_6/luciek98
USING AIRBNB? USE THIS TO GET A DISCOUNT!
You can also get £25 in travel credit, when you book your first Airbnb stay of over £55 or more, using my airbnb code: www.airbnb.co.uk/c/lkerley1 (and then £55 back when you welcome your first guest using your own referral code)
*I also get £15 back for sharing the code! Win! Win!
Photography © Lucie Kerley